Subject: Friends of Merrymeeting Bay Research Updates
Speakers: Ed Friedman, FOMB Chair;
Kermit Smyth FOMB Water Quality Coordinator
When: Wednesday, May 12th; 7:00 p.m.
Where: Curtis Memorial Library, Brunswick

Join Friends of Merrymeeting Bay (FOMB) on Wednesday, May 12th at 7pm for the 8th and final presentation in this season's Winter Speaker Series. This presentation, "Friends of Merrymeeting Bay Research Updates" features FOMB Research and Advocacy Committee Members, Ed Friedman and Kermit Smyth, discussing some of FOMB's most intensive studies of the Bay yet!

Research plays a critical role in FOMB's work to preserve, protect and improve the unique ecosystems of Merrymeeting Bay. Sprawl, pollution and invasive species continually threaten the ecological integrity of this sensitive resource so many critters call home. By tracking land use and vegetation changes, studying current flows and circulation patterns, monitoring water quality, and conducting rigorous invasive species eradication projects, FOMB's research work provides a deeper understanding of this unique resource and a solid basis from which to advocate for its protection. FOMB Research & Advocacy Committee members, Ed Friedman and Kermit Smyth, will share information found from FOMB's current projects and what it tells us about the health and future of Merrymeeting Bay.

Ed Friedman has been on the FOMB Board since 1993, and the Chair since 1996. He has thirty years experience as outdoor/experiential educator and has worked in glaciology and wildlife biology from Antarctica to the arctic. Ed has a B.S. in Environmental Science from Empire State College (SUNY). Kermit Smyth is FOMB's Water Quality Coordinator for the coliform bacteria sampling program. He also plays an important role as a member of FOMB's Research & Advocacy Committee and is a conservation stewardship volunteer. Kermit is a retired Research Chemist and has a PhD in Physical Chemistry from Stanford University.

The FOMB Winter Speaker Series takes place monthly from October-May on the second Wednesday. The series, which is free and open to the public, is sponsored by Friends of Merrymeeting Bay with support and valuable door prizes from Patagonia Outlet in Freeport.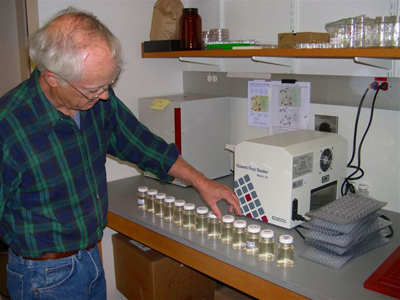 Photo: Kermit Smyth testing water quality samples