October 12, 2011
Smart Meters: The Big Lie.
The Smart Meter Safety Coalition members presenting tonight all brought separate smart meter Complaints to the Maine PUC in 2010. They did not know each other before this:
Elisa Boxer-Cook, Journalist and Founder-Smart Meter Safety Coalition: The Smart Meter Safety Coalition seeks to inform and educate residents about Central Maine Power's smart meter program, which comprises the involuntary installation of a wireless network of meters, routers and nodes that emit non-ionizing radio wave frequency — currently under investigation by the World Health Organization as a possible carcinogen.



Elisa Boxer-Cook
The Smart Meter Safety Coalition was spearheaded by Elisa Boxer-Cook, an environmental health advocate, educator, Emmy-award winning journalist, and recognized leader in the effort to protect the health and safety of children and their families.
Her research into dangerous chemicals encountered in everyday consumer products has made Boxer-Cook a valuable resource. Boxer-Cook has testified before state legislative committees on seven issues relating to safer chemical policy, including bills to help schools adopt green cleaning practices, banning a class of particularly toxic flame retardants in favor of safer alternatives and fighting for stricter pesticide notification laws.
Boxer-Cook was recognized with the Natural Resources Council of Maine's Environmental Award for helping to pass the Kids Safe Products Act, an ongoing law to phase out toxic chemicals from children's products in Maine, and for which she testified at several hearings at which chemical companies tried unsuccessfully to overturn the law. In presenting the award, NRCM Executive Director Brownie Carson said of Boxer-Cook, "She is setting an example for people everywhere."
Boxer-Cook has been invited to join several environmental health-related boards and committees, including the Physicians for Social Responsibility Maine Chapter. She is on their newly formed Toxics Advisory Committee, whose goal is raising awareness among pediatricians and pediatric nurses about the links between chemicals and children's health.
In August 2010, Boxer-Cook testified before Maine's Department of Environmental Protection in support of a bill that would ban bisphenol A (BPA), a compound found in certain plastics, in children's products.
Boxer-Cook is al also frequently asked to speak at conferences and on panels about environmental health and safer-chemical policy and toxics reform.
In November 2010, Boxer-Cook was named a finalist in Health Child Healthy World's national Mom on a Mission campaign.
Suzanne Foley-Ferguson- owner of Beal's Ice Cream in Portland has recently been a complainant before the PUC on the issue of smart meters. She has worked on environmental issues for over 25 years including a 3-year stint at the Cape Elizabeth Land Trust and founding the Friends of Rachel Carson National Wildlife Refuge. She served as a Scarborough Town Councilor for six years and currently chairs the Parks and Conservation Land Board in Scarborough.
Dianne Wilkins: Paralegal
Julie Tupper: Fashion Designer
http://smartmetersafety.com/
********************************************************************
November 9, 2011
9,000 Years Ago in Dresden
Arthur Spiess. Senior Archaeologist, Maine Historic Preservation Commission. Art Spiess received a PhD in Anthropology from Harvard University in 1978. Since 1978 he has been employed by the Maine Historic Preservation Commission as an archaeologist. The Commission job involves locating, identifying and protecting significant archaeological sites, including nomination of sites to the National Register of Historic Places. Review of development projects and requiring archaeological survey, legislation and regulations, and land conservation and land planning are all major parts of his job. For about 25 years Spiess has been on the Board of The Maine Archaeological Society, and he serves as the Editor of Archaeology of Eastern North America for the Eastern States Archaeological Federation.
************************************************************************
Col. John Allan, 1746-1805, Maine's Unsung Hero
Chris Groden. Theater professional & amateur historian. Christopher Groden with a background in theater, has had a lifelong interest in history, and particularly in the culture and history of Native American Indians and their influence on Euro- America. He came to Maine six years ago to research the story of Colonel John Allan and his work with the Wabanaki and settlers of eastern Maine during the Revolutionary War. He currently resides in Belfast, Maine.

John Allan, an expatriot of Nova Scotia, was appointed as a member of his personal staff by General George Washington with commissions as a Colonel in the Continental Army, Commander of the Machias, Maine Militia and first Superintendent of Indian Affairs in our history. His exploits during the Revolutionary War were crucial to Maine and to the success of the Revolution itself. The exciting story that was his life has gone largely untold and the very few historians who have penned it agree that he never received the recognition that he deserved. His legacy belongs to all Americans and all who seek liberty, justice and understanding have a hero in Colonel John Allan.
******************************************************************
January 11, 2012
Notes on a Lost Flute
Kerry Hardy. Ecologist, Linguist, Eco-historian, Author and Activist. Kerry studies the human ecology of pre-Contact Native Americans, primarily by analyzing the words they used to describe the world around them.
"The oldest words, in any language, are like little time capsules packed full of ancient thoughts. If you can crack an old word open and let those thoughts out, you start to see what the land and its people were like long ago, and history starts to really come alive for you."

Kerry has a Master's Degree in Landscape Architecture from the SUNY College of Environmental Science and Forestry. He wrote "Notes" in 2009, which led to becoming a keynote speaker at the 2010 Common Ground Fair. He's currently working on a new book. Most recently, Kerry spoke at the 2011 Algonquian Conference in Ann Arbor, Michigan, and helped plan and serve a Native foods banquet at that event. He lives in Rockland, rides his bike almost anywhere else in the state in the name of research, recreation, or advocacy.
Notes on a Lost Flute
A Field Guide to the Wabanaki
by Kerry Hardy
reviewed by Tom Wessels- Review published in the May/June 2010 issue of Orion magazine
LIKE BEADS IN a wampum belt, writers carefully stitch together words to create images, but what is conveyed by a solitary word? To Kerry Hardy, a single word can reveal important connections between people and the landscape in which they live—more specifically between the Wabanaki and their ancestral homeland in Maine.
Hardy, whose background is more in ecology than ethnography, unexpectedly found himself delving into indigenous culture and language through a simple observation and question. Why did his road in Rockland, Maine, "wiggle" when so many of the town's other streets ran in straight lines? That question led to his discovery of numerous old Indian paths that radiated throughout Maine from a trading post established in 1628 by Pilgrims at Cushnoc, or what became Augusta—Maine's capital city. The realization that these ancient trading paths still exist, as do the sites where Wabanaki villages once stood to harvest the bounty of Maine's rivers, propelled Hardy into what might be considered linguistic forensics to uncover a rich cultural history that resides in the words of place.
Notes on a Lost Flute shows how words can convey attributes of forgotten landscapes, often long after critical features are gone. Take Mount Kineo. Kineo is a slightly morphed version of the Algonkin word for golden eagle. The majestic bird once nested on the mountain's steep cliffs, giving the mountain its name. That name still exists even though golden eagles no longer nest in Maine. As Hardy points out, "a place name doesn't die. . . . We can be grateful for this, for in place names we can still find stories about how the ancients used and saw the landscape."
Hardy often comes to differing interpretations of the meaning of place names than those preceding him. This is where his ecological background may help him see relationships that others might miss. Whether his suppositions are correct isn't as important as the process of sleuthing out what a name infers. So it was with Seguin Island off of Popham Beach. For more than a year he tried to figure out the origins of the island's name and kept coming to similar sounding Algonkin words for the tail of a horseshoe crab. He became convinced that in some way these crabs were associated with the island. During his next visit to Popham Beach he saw that the island's profile directly resembles that of a horseshoe crab with its tail pointing straight toward the mouth of the Kennebec River.
Though not a guide to be taken into the field, this richly illustrated historical narrative can help people better understand the place in which they live. For anyone interested in the intimate relationship between nature and language, it's a must-read.
**********************************************************************
February 7, 2011
Birds, Bats & Blades-Wind Turbines and Wildlife
Steve Pelletier. Wildlife Biologist & Vice President, Stantec. Steve is a certified wildlife biologist, professional wetland scientist, and certified and licensed professional forester with over 20 years of experience. As co-founder and vice president of Woodlot Alternatives [acquired by Stantec], he specializes in wildlife management planning, avian studies, wetland science, forest management, and permitting. He has worked on a variety of wildlife and habitat issues throughout the northeast, and offers particular expertise in evaluating wildlife impacts and developing avoidance and mitigation measures for projects ranging from wind power developments to commuter rail lines. Steve is responsible for designing field studies and coordinating data collection and report preparation, and has designed many compensatory mitigation projects. Steve has taught various wildlife and wetland courses, including a course for certifying municipal
Code Enforcement Officers, and has taught refresher courses for the Maine Department of Environmental Protection staff. He is also a certified SCUBA diver, former FOMB Steering Committee member and currently on the FOMB Research & Advocacy Committee. For a full resume see: http://www.iberdrolarenewables.us/deerfield/Roy_Erickson/DFLD-SPWE-1-PelletierResume.pdf
***********************************************************************
March 13, 2012
Steamboating on the Sasanoa
Charlie Ipcar. I was born and raised in mid-coast Maine. Since the early 1990's I have performed sea music with Roll & Go throughout Maine and the other New England states. Our CDs, include Outward Bound, © 2002; Rolling Down to Sailortown, © 2006; Look Out!, © 2010. More information about Roll & Go can be accessed from our website: www.rollandgoseasongs.com
I have also released four solo CD's: Uncommon Sailor Songs, © 2004; More Uncommon Sailor Songs, © 2005; Old Sailor-Poets, © 2007, and Sailortown Days, © 2009. I accompany most of my songs with the 5-string banjo or Anglo concertina. I have performed solo at festivals, folk clubs, coffee houses and house concerts from coast to coast in the States, Canada, the United Kingdom, and Australia. In 2008 I was a featured performer and workshop leader at the Mystic Sea Music Festival. More information about my personal work is at: www.charlieipcar.com/
My wife and I now live with our two cats in Richmond, Maine, a quiet river town some twenty miles up the Kennebec River from the coast.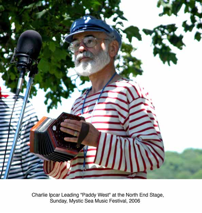 ********************************************************************
April 10, 20121
Tails of the Kennebec & Sebasticook
Nate Gray. Fisheries Restoration Biologist, Maine Department of Marine Resources.
Nate Gray is the project lead for the Kennebec Hydropower Developers Group (KHDG)
program through the Maine Department of Marine Resources, Bureau of Sea Run Fisheries
and Habitat (BSRFH). Nate has worked extensively on the Kennebec River and its tributaries
since 1992. He has been involved in nearly every aspect of the restoration program. He
witnessed the removal of Edwards Dam in Augusta, Maine in 1999 and has seen the populations
of river herring rise from a hundred thousand to over three million with the installation of multiple
fish passages and the opening of thousands of acres of historical habitat in the Kennebec drainage.
Nate has worked extensively on American shad restoration in the Kennebec River and was
actively involved in the Waldoboro Shad Hatchery from 1992-2007.
*********************************************************************
May8, 2012
Direct Action on the High Seas!
Captain Paul Watson. Founder & Director, Sea Shepard Conservation Society, Co-Founding Director, Greenpeace Foundation. Established in 1977, Sea Shepherd Conservation Society (SSCS) is an international non-profit, marine wildlife conservation organization. Our mission is to end the destruction of habitat and slaughter of wildlife in the world's oceans in order to conserve and protect ecosystems and species.

Sea Shepherd uses innovative direct-action tactics to investigate, document, and take action when necessary to expose and confront illegal activities on the high seas. By safeguarding the biodiversity of our delicately-balanced ocean ecosystems, Sea Shepherd works to ensure their survival for future generations.
In 2008, Animal Planet began filming the weekly series Whale Wars based on the group's encounters with the Japanese whaling fleet in the Southern Ocean, a development which brought the group much publicity.
See Paul's Home page for bio information: http://www.seashepherd.org/who-we-are/captain-paul-watson.html

"I have been honored to serve the whales, dolphins, seals - and all the other creatures on this Earth. Their beauty, intelligence, strength, and spirit have inspired me. These beings have spoken to me, touched me, and I have been rewarded by friendship with many members of different species.
If the whales survive and flourish, if the seals continue to live and give birth, and if I can contribute to ensuring their future prosperity, I will be forever happy."
- Paul Watson